It's Back to Homeschool Month here at Art of Eloquence and we have an INCREDIBLE series of special offers for you!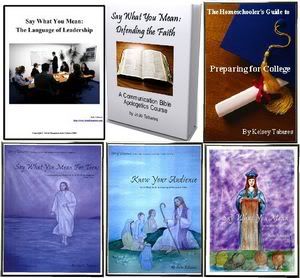 How would you like to get three free gifts?  Well, just stay tuned to this blog for details!
This week's Back to Homeschool Special Offer:
Buy any two
homeschool single titles
at our regularly low price and get
Say What You Mean for Moms
free! The picture featured here shows just a FEW of the homeschool materials we have available for PreK-Sr High school!  To check out all Art of Eloquence has to offer your school aged children, click the
Homeschool Tab
on the website or just click the link above.  
 ~~~~~~~~~~~~~~~~~~~~~~~~~~~~~~~~~~~~~~~~~~~~~~~~
What is Say What You Mean for Moms all about?
Want to ensure open communication with your children? Do you desire a close relationship with your son or daughter? Avoid all the problems you've heard you'd have when your kids are teenagers.  
So many of you asked us to write a communication study for parents and children. This study is for new moms who would like the benefit of experience and for experienced moms wanting some tips for better discipline, communication, and stronger relationships with their children.
This study will include:
* Five Foolish Things Moms Say* Twelve Ways Moms Undermine Discipline * Nine Foolish Things Moms Do* The Dangers of Expecting Teenagers to Be Difficult* Five Wise Things Moms Should Do * Ten Ways to Talk so Your Kids Will Listen * Five Ways to Encourage Open Communication* Six Steps to Overcoming Overwhelm * And MUCH MORE!
x
To get Say What You Mean for Moms Free:
Just order any two individual Art of Eloquence
homeschool titles
at the regularly low price this week.  Then
forward the email confirmation of your order
to me jojo @ artofeloquence .com and make sure to
put "FREE SWM for Moms" in the subject line.
  It's that easy! I will email your free copy of Say What You Mean for Moms to you within 48 hours of your order!  
Just remember to order and email us
before midnight PST on Saturday, August 17th. 
~*~*~*~*~*~
NOTE:
Don't forget to submit your communication questions to
jojo@artofeloquence.com
for my monthly
Ask JoJo
section of my blog.  I'll pick one question per month to answer right here on the blog!  You can ask anything related to communication skills from a tip on how not to be nervous making a speech to what games your kids can play that will help them hone their communication skills and even if your website or blog is clearly written!
x
If you liked this post, read…
Seven Reasons Why YOU Should Sign Up for the Art of Eloquence Newsletter!