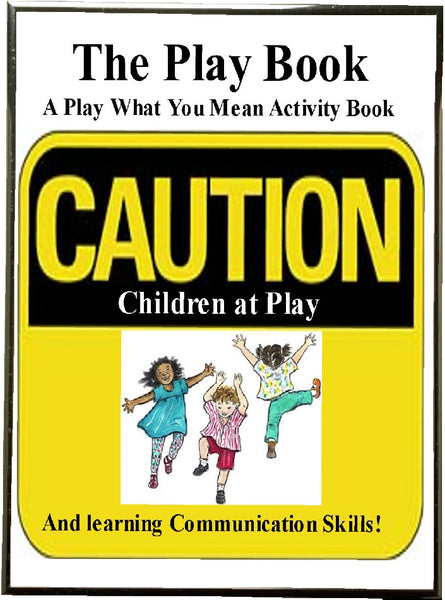 The Play Book
A Play What You Mean Activities eBook
"Try not to have a good time... this is supposed to be educational."-Charles M. Schulz
Children love to play and play is how the Lord intended young children to learn. It is through play that children learn best. The more fun and entertaining something is, the more a child will be willing to learn and the more the child will retain.
This eBook is designed to help parents foster communication skills in young children. Some of these are blasts from the past (with new variations), games that I played as a child...only I didn't know what they were teaching me! In today's techie society, our children have lost touch with these old fashioned games that taught so much about life. I bring them back to your memory and tell you what communication skills they teach.
Some of the activities in this eBook are things I made up for my own kids that have helped them to grow into effective communicators. Both of my kids have always felt that if something was worth doing, it was worth doing FUN! These are the results of my labor over the years to fulfill that mandate!
Each section begins with a Bible quote to set the tone.

Comes in PDF eBook format for immediate download.

Print off the activities as many times as you like for your own family's use!

Comes with individual activities and group games!

Creative variations on some old favorites

Unique NEW ideas for communication FUN!

Designed for young children but includes adaptations for older children so even teens will have fun!
What others have to say about The Play Book:
"All of JoJo's Art of Eloquence books are great for teaching communication skills, a rather lost art in today's society. However, this one, in particular, is just plain fun. After all, a book called The Play Book has got to be fun, right? In this book, you will find lots and lots of fun games to play with your kids. Some of them are old games that you probably played as a child (like Telephone and Simon Says) but JoJo has added new twists to them to make them more interesting; some are new games that JoJo has made up to play with her own kids and has graciously shared in this book. All of the games work to develop good communication skills in your kids, with the skill being focused on in each game explained in the directions. But guess what? Your kids will never know they're learning!  So, if you're looking for a great way to incorporate some learning into your days, but your kids are resistant, check out this book. I promise, you'll have all kinds of fun. And now, I'm going to go and PLAY!"-Heidi Strawser, E-Book Reviews Specialist, The Old Schoolhouse® Magazine, LLC
"By the way, I'm gong to recommend your "Play What You Mean" as therapeutic help for children with RAD.  It contains many attachment type activities.  :>) Communication is mega-helpful in attachment!" -Becky Joie
*NOTE*: You will be prompted at checkout to click through in order to download the eBook.