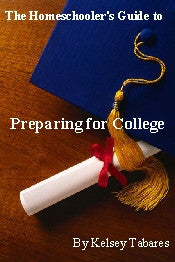 The Homeschooler's Guide to Preparing for College
Homeschooler: Are you familiar with the tests your student should take to apply to college? Do you know what questions to expect when your child takes them? Are you aware of the SAT prep books that are worthwhile– and those that aren't? Have you thought about what courses your high schooler should be taking? Do you know how to prepare his or her transcript? Do you have a list of college prep resources? Are you aware of what a homeschooler needs to do in order to apply to college?
If you answered no to any of these questions, don't worry. The Homeschooler's Guide to Preparing for College eBook was written for you!
The college preparation process can be long and frustrating without guidance, and the stakes are high if you are uninformed. Knowing exactly how to present your child as a homeschooled applicant is paramount to his or her success in the applicant pool. Don't wait until your child's Senior year to begin!
The Homeschooler's Guide to Preparing for College is unlike every other college prep book in one vital capacity: it was written by a homeschooler, for homeschoolers. Other books do not offer the insights and advice that you as a homeschooler need. This title contains up-to-date information about all aspects of the college prep process, drawn from the research and personal experiences of a homeschooled teen who has gone through the process. You won't find this information anywhere else!
What you don't know about the college prep process and why it is different for homeschoolers could cost you HUNDREDS of dollars!
We know because our family spent hundreds of dollars  we need not have spent on test prep books alone that were NOT helpful!  Find out which ones are and which ones aren't!  Just this information alone is worth much more than the double the price of this eBook!
* Written as an eBook (electronic book) with direct links to resources for easy reference!
*NOTE*: You will be prompted at checkout to click through in order to receive an email with your link from which you will download the eBook.