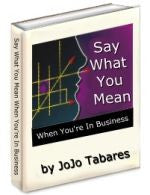 Say What You Mean When You're in Business
87% of what you do all day is communication-related. Make the most of it by learning some simple techniques that will drastically improve communication with your customers, business associates, suppliers, employees and/or downline. Studies show that effective communicators are more successful people who are comfortable making presentations or speeches. This Christian-based and easy-to-use study, is a great reference for those in direct sales and perfect for those just starting out in business! This eBook is the culmination of my 20 years of experience in business from sole proprietorships to network marketing to Fortune 500 Companies. Now you can be the expert and do the same things that I have done so you can increase YOUR success!
Here's what you will learn:
Over 100 tips and techniques!
Creating a communication package for your business.
How to present yourself as an expert in your field.
How to effectively handle customer service, complaints and returns.
Making Contacts
Effective use of networking groups
Handling kids and business.
How/when to share your faith
How to gain support from family and friends...And much, much more
Each chapter begins with a Bible quote and shows you not just what to do, but how to do it!
*NOTE*:  You will be prompted at checkout to click through so that you may download the eBook!
Here's what some of our customers had to say:
"There is a LOT of tangible information in this book! Usually, you have books that don't give actual "what to do's" when telling you about a topic. This book tells you what to do! It gives plenty of examples as well. So you have a book that is great from beginning business to end. I highly recommend this book for those of you who need to regroup from burnout in business and those of you just starting out. Thank you JoJo for writing this book. I'm keeping it as reference material and will make my employees read it as they are hired." Susie Glennan, President - The Busy Woman's Daily Planner

" I got my e-book - "Say What You Mean When You're In Business." I can't put it down. It's wonderful. I have only gotten through about half of it, but I have already learned so much and am already implenting many of the suggestions into my business practices. It's great!!! My husband also has a separate small business and he's been reading it too. I print out a couple of chapters...I read it...then pass it on to him and he reads it. Thanks again JoJo. Blessings." Brenda, Brenda's County Gift Shoppe
Direct Sales Leaders: Why not gather your team together for a fun and creative hour learning the two or three things that they all struggle with?  What could your team accomplish this year if they could make better initial contacts or did more effective follow ups?  Interested?  Contact JoJo about her Custom Designed Seminars for direct sales leaders today!  jojo@artofeloquence.com
Think of a more prosperous team this year with Say What You Mean When You're in Business custom lessons for your entire team!