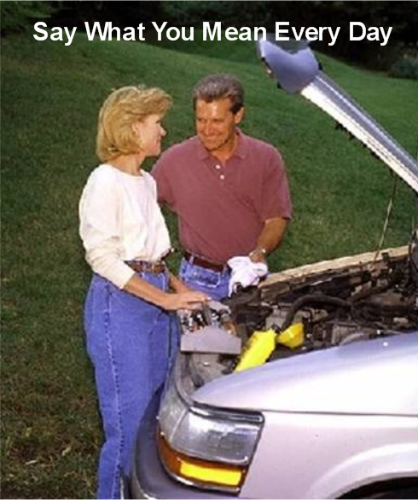 Say What You Mean Every Day
eBook for Every Day Communication!
Do you get tongue-tied when you have to confront your child's doctor or teacher?  Are you afraid to confront a nightmare neighbor simply because you don't know what to say or how to say it?  Confused about how to communicate with your spouse so he really hears you and you don't end up frustrated?  Unsure how to hire a contractor with confidence?  If the answer to any of these questions is yes, you need the latest ebook from Art of Eloquence:  Say What You Mean Every Day!

 
Communication skills are a part of almost every aspect of life.  It is said that there are over 7000 references to how we communicate in the Bible.  I haven't counted them all, but after studying God's Word for years, I have found hundreds!  The Lord doesn't mention every subject in His Word so if He does mention one that often, He must think it very important.  It would make sense to study it, Amen? 
Many people mistakenly think that communication skills are all about public speaking.  Well...
You very well may be able to get through your entire life without making a speech, but you won't get through one day without communicating with SOMEONE! 
 
Relationships are at the core of almost all issues in everyday life.  We have relationships with our spouse, children, business associates, friends, family, neighbors, doctors, teachers, creditors, salesmen and even strangers on the street!  We cannot have a relationship without communication.  The more effective a communicator you are the better your relationships will be. 
 
You are about to embark on an eStudy that will allow you to blossom your everyday relationships and enjoy a better quality of life.  This study is broken down into the most common everyday relationships and situations in which miscommunication often helps to create more frustration.  These tips and techniques will help you create better relationships so you will enjoy a more stress free life. 
Chapter Headings
 
1. How to talk to your spouse, 'cuz you must.
2. Doctor!  Doctor!
3. Teacher Trouble
4. Billing Battles
5. Neighbor Nightmares
6. Many Happy Returns
7. How to talk to a car salesman without being driven to the cleaners!
8. What to say after a car accident 
9. Mechanics, Lemons and Insurance Claims!  Oh my!
10. What to say when you hire a contractor
11. How to handle Phone Solicitors
12. How to be unpopular with grace
13. To email or NOT to email? 
14. Kid Kommunication
15. I want a raise and other things you might want to discuss with your boss
This is an eBook (electronic book) which offers the following advantages:
No waiting for delivery

No shipping costs

 

 
Each chapter begins with a scripture to set the tone and each chapter tells the humorous REAL LIFE stories I have encountered and how I handled them. 
It's a fun read to keep you entertained while you gather tips and techniques for effective communication every day. 
Oh...the stories are just so funny because they are all true! 
*NOTE*: You will be prompted at checkout to click through in order to download the eBook.