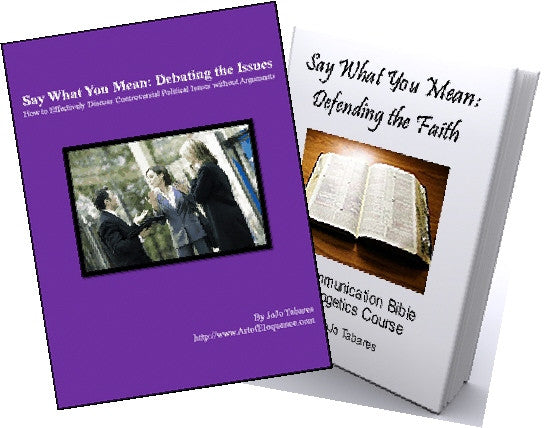 Faith and Politics Value Pack
If you've ever felt uncomfortable or were unsure of how to share your faith and conservative political views, this ePackage is for YOU! 
Included: Say What You Mean: Defending the Faith
Why do most apologetics courses fall short?
~God didn't make Cookie-Cutter People so a one-size-fits-all approach reaches few unbelivers.
~If people are approached the wrong way, not only will they not accept the Lord, but they will build a wall between themselves and God which includes anyone who would speak to them again about the Lord, the Bible, Salvation or Jesus!
~They most often teach you what to say, but fail to instruct you on how to say it or why these questions are often asked
~They often teach you to open with scripture or statement that doesn't reflect the concerns of the listener and so they tune you out, or worse, get angry!
~They don't always teach you how to answer the most common questions and misconceptions
This eStudy is the only one I know of that includes not just what to say but how to say it! God didn't make cookie cutter people and there is no one size fits all approach to sharing the faith. Folks have questions and misconceptions that need to be addressed on an individual basis. Paul knew this and he talks about how important it was for him to approach people a way that would be most effective in allowing him to save as many souls as possible: 1 Corinthians 9:19-27 (KJV)
What benefits of the Say What You Mean: Defending the Faith eStudy?
~Strengthen your own faith because you find the resources to answer these common questions of science, etc.
~Help prevent our teens from falling away from the faith by influences of the secular world and anti Christian professors, co workers and neighbors
~Teach you not just what to answer, but how to articulate it to the different people who typically ask these questions
~Train you to share in grace and with respect for more effective mission work right here in our own country where faith is decaying
~Research links to fabulous online resources conveniently embedded within the text for easy research
~Designed for jr/sr high-adults
~18 weeks (one semester) of instruction
~FUN and easy to use in just 1-2 hours per week!
~No waiting for delivery!
~No shipping costs
Also Included: Say What You Mean: Debating the Issues:
The political climate in the United States is volatile. Most political discussions are heated, but they need not be. If you are a Christian and find yourself on the typical Christian conservative view of each issue, but aren't sure how to voice your concerns without ending up in a heated discussion, this eBook is for you!
eStudy includes:
* Background on each topic.
* General tips for discussing each issue.
* An At a Glance Chart with the major viewpoints on both sides of each issue.
* How to discuss each topic if you only have a few minutes.
* How to discuss each topic if you have more time.
* Embedded resource links where you can learn even more information on each topic.
* Practical advice to help you practice.
You'll learn more about the issues and how to effectively present them an a typical discussion!
Say What You Mean: Debating the Issues will help teens and adults alike to prepare to discuss some of the nation's most important political issues. The other side is voicing their views. It's time for us to share the Christian conservative views.
Regular price
$ 40.00
Sale price
$ 37.00
---