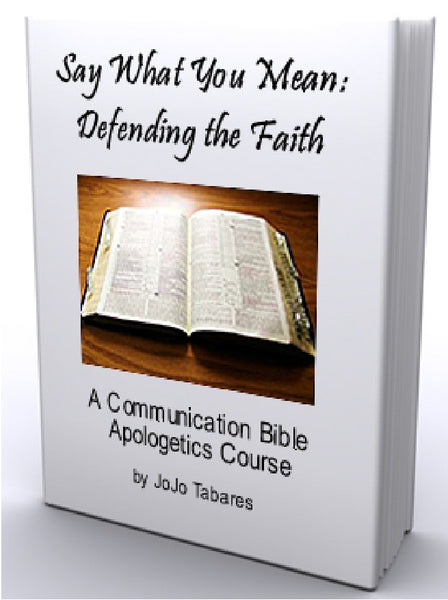 Say What You Mean: Defending the Faith
"But sanctify the Lord God in your hearts: and be ready always to give an answer to every man that asketh you a reason of the hope that is in you with meekness and fear:" 1Peter 3:15
Will your teen's faith be shaken as he or she heads off to college or out into the world which is now unfriendly toward Christians? 
* Did you know that up to 80% of Christian teens will say they are no longer born again after college?  Some of them after only one year!  
* College professors and their fellow students WILL ask them about their faith and, if they aren't able to articulate it, they will not only fail to share the hope that is in them, but they will lose that hope of salvation for themselves
What about you? Did you know that most Christians can't explain to unbelievers why they believe?
* How can you hope to fulfill the Great Commission and share your faith with someone else if you are unable to articulate why YOU believe it yourself?
* Modern society is less friendly toward Christians and many of our religious freedoms have already begun to disappear!  We need to speak up in boldness tempered by grace in order to maintain those freedoms for our children.

Are you comfortable enough to answer questions like these? 
 * What about all the horrible things done in Jesus' name?
 * If there is a God, why is there so much suffering?
 * Why are Christians so intolerant?
 * Isn't the Bible full of contradictions, revisions and mistakes?
Do you know how to answer these questions? These questions and many more strike fear in most people, but what if you could feel confident about answering them? 
Most Christians are afraid to share their faith for fear they will be seen as pushy. Others don't consider how they come across to unbelievers and do, indeed, push them as if to hit them over the head with the King James Bible.  While we are to be bold enough to share the truth, we are also to be grace-filled when we do so in order that we will be able to relate to them. 
My name is JoJo Tabares.  I am of Jewish heritage and I was brought up in an Atheist home.  This study comes from my experience in discussing my Christian faith with those of many beliefs.  I have first-hand experience with people who have tried to boldly share their Christian faith with my family without being grace-filled and I can tell you that it doesn't work very well. After having earned my degree in speech communication, I now know that it's because a topic of this nature requires the personal touch. 
After I accepted Christ, I realized that the best way to share your faith is through a friendly conversation where you are able to relate to the other party one-on-one and discuss the issues while you answer any questions they may have about Christianity. 
Why do most apologetics courses fall short?
* God didn't make Cookie-Cutter People so a one-size-fits-all approach reaches few unbelivers
* They most often teach you what to say, but fail to instruct you on how to say it or to tailor it to each individual
* They often teach you to open with a scripture or statement that doesn't reflect the concerns of the unbeliever
* They don't teach you how to answer the most common questions and misconceptions unbelievers have
* They don't give you embedded links where you will find scientific data supporting biblical events
This eStudy is the only one I know of that includes not just what to say, but how to say it!  People have questions and misconceptions that need to be addressed on an individual basis.  Paul knew this and he talks about how important it was for him to approach people this way because it would be most effective in allowing him to save as many souls as possible: 1 Corinthians 9:19-27 (KJV)
"For though I be free from all men, yet have I made myself servant unto all, that I might gain the more.  And unto the Jews I became as a Jew, that I might gain the Jews; to them that are under the law, as under the law, that I might gain them that are under the law; To them that are without law, as without law, (being not without law to God, but under the law to Christ,) that I might gain them that are without law. To the weak became I as weak, that I might gain the weak: I am made all things to all men, that I might by all means save some. And this I do for the gospel's sake, that I might be partaker thereof with you. Know ye not that they which run in a race run all, but one receiveth the prize? So run, that ye may obtain. And every man that striveth for the mastery is temperate in all things. Now they do it to obtain a corruptible crown; but we an incorruptible. I therefore so run, not as uncertainly; so fight I, not as one that beateth the air: But I keep under my body, and bring it into subjection: lest that by any means, when I have preached to others, I myself should be a castaway."
One of the most convicting comments came from an Atheist, Penn of Penn and Teller, who asked why Christians wouldn't share their faith with him if they really believed his eternal soul was at risk.  OUCH!  The reason is that most Christians just don't know how.  But here's the good news!  In just a few short weeks, you will!
What Say What You Mean: Defending the Faith will do for you or your teen:
* Strengthen your own faith as you learn more scientific evidence supporting the Bible
* Help prevent teens from falling away from the faith by influences of the secular world
* Teaches you not just what to say, but how to articulate it to the different people who ask questions
* Trains you to share in grace and with respect for more effective mission work right here in our own country where faith is decaying
What people are saying about Say What You Mean: Defending the Faith:
"This is such a needed class and I can see how easily both boys are learning some of the ways to respond (and ways not to respond) to some of the common things people say. I can see how they are understanding their faith in new, deeper ways and making their faith their own. This class has also helped to facilitate discussion in our family around the dinner table. You have a way of presenting things in a straight forward way that is so understandable.Thank you JoJo" -Marcie, Homeschooling mom of two
This is the BEST way to learn how to answer the world's questions about Christ and strengthen your own faith and the faith of your children!  Learn to fulfill the Great Commission with ease! Order today.
*NOTE*: You will be prompted at checkout to click through in order to receive your link from which you will download the eBook.
---