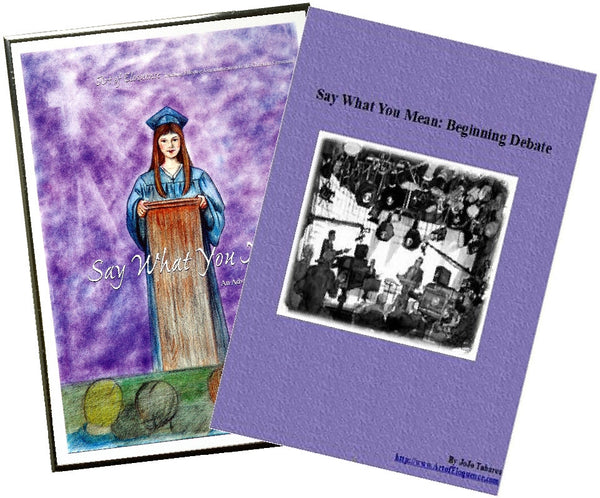 Speech and Debate Value Package
Develop the Power to Influence! Never again find yourself at a loss for words!
Have you ever felt embarrassed because you couldn't express yourself well?  You may be clear about your beliefs, but you simply find yourself struggling to articulate your thoughts effectively. 
Think about it. How many times have you felt passionately about something, but you lacked the confidence, discipline or training necessary to present a good argument?  While most people will never have the need to engage in a formal debate or speech, mastering these techniques can help you to become more persuasive in your daily life. Do we need formal Lincoln-Douglas debate-level persuasion skills every day? No, but can our everyday persuasion skills be enhanced by the study of debate? Absolutely!
Don't ever feel inadequate about your communication skills again!
Being skilled in the art of giving effective presentations is likely to have a significant impact on your success both personally and professionally. Presenting yourself (and your ideas) well and having the ability to persuade others is essential in business. It is the mark of an effective and respected leader.  It is also important on a personal level because polished communication skills will greatly assist you in making and developing good friendships! 
What will you gain by learning to speak comfortably in public?
• Increase your confidence and self-esteem

• Develop the ability to think on your feet
• Gain the power to captivate your audience
• Greatly enhance your critical listening skills
• Master persuasion skills
• Dramatically increase your prospects for career advancement
Studies show that people who are comfortable speaking in public earn considerably more money than those who aren't! 
So why aren't most people good public speakers?  The problem with most speech and debate courses:
Most speech and debate courses are either intimidating or boring.  As a child, I was painfully shy.  I was terrified to take a traditional speech and debate course.  If I wasn't intimidated enough by the thought of public speaking, I certainly was by having to become an expert on a boring subject.  The only way I would have agreed to take one of these courses is if they had the very thing that was missing from them all: The FUN Factor!  Studies show that the more fun people have while learning, the better they will understand, practice and retain the subject matter.
 
When you find a course that is both creatively designed and a lot of fun, learning becomes almost effortless. 
Why Choose Art of Eloquence Speech and Debate?
• It is presented in a fun and creative way
• Topics are unique and appealing
• More time is spent on actually learning speech and debate skills instead of researching skills
• No research is needed
• No parent/teacher prep time required
•  Material may be used in a classroom or co-op setting
• Shy students can learn (one-on-one) from the comfort of their own home
• No teacher's manual is needed (Saves you money!)
• It is a full year course (exceptional value!)
• Includes BONUS material to create an additional debate semester, if desired
• eBook contains embedded resource links
• SAVE money when you purchase both together
What One Customer Had to Say
"Mrs. Tabares, through her curricula, has given my sons the tools, opportunity and feedback necessary to become confident and competent in their speaking, whether a one-on-one impromptu conversation or a prepared speech in a group setting. My sons love speech and have grown and learned so much and that says it all!" -Joann Oxenham
Sample lessons 
Free Creative Speech Sample Lesson
Free Beginning Debate Sample Lesson
Develop in your child (or yourself) the power to influence and see how quickly confidence and self-esteem rise.  Remember, influence is the ability to communicate passion with power and clarity. 
Give your child the gift of influence.  Order TODAY!
Regular price
$ 50.00
Sale price
$ 37.00
---
---