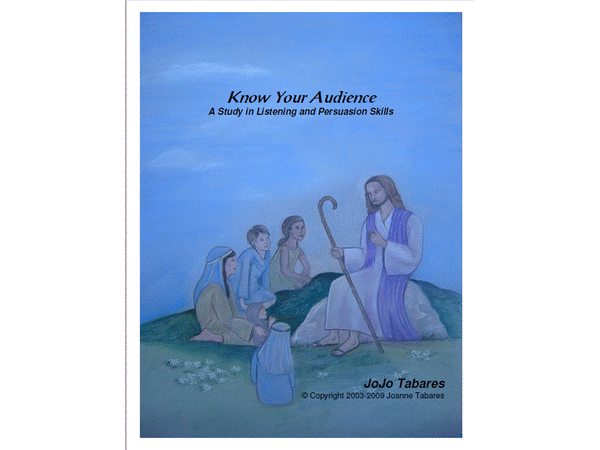 Know Your Audience
Know Your Audience has been rewritten as an

ebook

and now includes communication articles, resources, embedded links, and so much more! 
Christian-based, 18 week (one semester) course is a companion to Say What You Mean for Kids or Say What You Mean for Teens that makes a full year of effective communication skills (grades 2-12) It teaches listening and persuasion as well as a bit about entrepreneurial success! It is one of our most popular studies because it is just so much fun! Students create a product/service (the more outrageous the better!) and then learn to present their invention to different audiences using different methods of communication. (kindergarten class, radio address, interview, board meeting with Mr IM Boss!)
Each lesson begins with a Bible quote to set the stage
Perfect for kids who are shy or have ADD because it is so much fun!
Great as a classroom or co op class course
Learn listening and persuasion in 1-2 hours per week
Now with embedded links to new articles, tips and more!
"Know Your Audience" unpacks the subtleties of "Saying What You Mean" and is the perfect complement to the book whether I want to persuade my toddler to pick up his toys or a client to hire me. I keep both handy on my reference shelf." Cheryl Hosmer, writer and stay-at-home mom, Michigan
"I purchased JoJo's books, Say What You Mean and Know Your Audience for my almost teenage son. I quickly perused the books before giving them to my son. So many of the subjects caught my eye and I ended up reading them myself first!. I found the studies to be very informative, covering all aspects of communication, not just the spoken word. They were written in a style that would appeal to pre-teens , teenagers and adults. My son read both books and told me he "enjoyed" them (his word) and learned some things he has already put into practice with his education. Based on this, I recently purchased JoJo's ebook, Say What you Mean When You're In Business. I found this work to be of the same superb quality and, again, covering all bases for the business person, not just the spoken word. I highly recommend JoJo's work and will be purchasing the new books when they are published." Carla

" JoJo Tabares -- I can't tell you how impressed I am with your series! I ordered them to preview them for my students at our cottage school. I LOVE THESE BOOKS! I was a communications major a loooooooooooong time ago in undergrad school (Music Theater to be exact) and I cannot say enough about how pleased I am with the content of your books. I think they should be required courses for every home school and Christian School! Way to go!!!!!" Karla Akins, D. Ch. Ed. http:/LibertyScholars.com
*NOTE*: You will be prompted at checkout to click through in order to download the eBook.
---