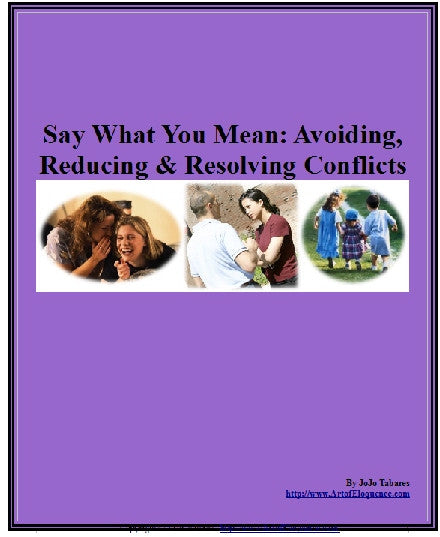 Say What You Mean: Avoiding, Reducing and Resolving Conflicts
Miscommunication is the Root Cause of Almost All Conflicts!
Conflicts can destroy your marriage, your friendships, your relationships with your children and even your career.  Mistrust, fear and pain often follow and their effects can be permanent! 
The Lord warns us of the incredible power we have as we communicate with one another. It gives us the power to build up and the power to tear down.

"Death and life are in the power of the tongue: and they that love it shall eat the fruit thereof." -Proverbs 18:21

Communication is a delicate balance. When you combine fragile feelings, past hurts, unmet expectations, world view, past experiences, cultural differences and human interaction, you're bound to have misunderstandings. The problem is that a slight misunderstanding has the capacity to grow into a conflict with the potential of blossoming a disagreement into a monumental argument.

Just knowing that your communication is a delicate balance can help you choose your words carefully, but that alone will NOT help you avoid, reduce or resolve conflicts. This eStudy WILL!

Table of Contents:
Section I: Introduction to Conflicts
1. What are Conflicts?
2. What Causes Conflicts?
3. What Can Conflicts Cause?

Section II: Avoiding Conflicts
1. Best Way to Deal with Conflicts: Avoid Them!
2. Tips for Speakers
3. Tips for Listeners
4. Tips for Group Settings

Section III: Reducing Conflicts
1. General Tips for Reducing Conflict
2. 10 Quick Rules for Disagreeing in Grace
3. JoJo's Rules of Thumb for Taking Offense
4. Everything Obvious...Unless it Isn't
5. Too Dumb for Directions
6. Nitpicker's Anonymous
7. Conflict Mistakes
8. JoJo's Recipe for Handling Conflict in Marriage

Section IV: Resolving Conflicts
1. Confrontation
2. Conflict Resolution Mistakes
3. Conflict Resolution Tips
4. Steps to Conflict Resolution
5. Conflict Resolution Strategies

Section V: Resources

FREE Sample Lesson/Excerpts

Don't let that conflict get out of control and grow into something you will forever regret! Your relationships are worth preserving.  Order Your Copy of Say What You Mean: Avoiding, Reducing and Resolving Conflicts NOW!

NOTE: You will be prompted at checkout in order to download your eBook.
---