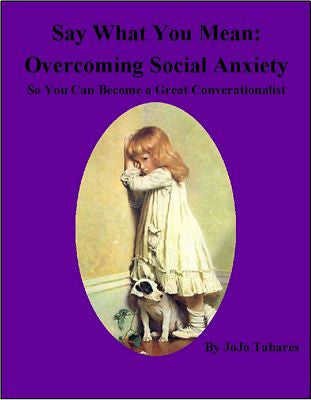 Say What You Mean: Overcoming Social Anxiety
Being Shy Can Be Painful...but it doesn't have to be that way!
How long have you struggled with shyness?
Do you avoid potentially enjoyable or even profitable situations because you're uncomfortable relating to people?  Does your child feel self-conscious, left out or lonely?
Does this sound like you or a loved one?  You're not alone.  Polls indicate that 40% of people consider themselves shy, but I have great news.  You may not be shy at all!
It took me many painful YEARS to overcome my shyness. I once thought it was part of my personality and that I was destined to be shy and lonely for the rest of my life. I was wrong!  Shyness is usually just anxiety brought on by a lack of effective communication skills in social situations.  Once I learned these vital skills, I found I wasn't shy at all!  And you're probably not either! 
This eCourse will take you from social anxiety to social butterfly!
Say What You Mean: Overcoming Social Anxiety takes you through my painful struggle and teaches you to overcome your social anxiety in a fraction of the time.  Even better, it allows you to do so in a fun and creative way.  Yes, this eBook will not only give you the tools to become more comfortable in social situations, but it will take you through mastery and on to excellence! 
 
Look at everything you will learn:

Section I: Introduction to Social Anxiety
1.My Testimony
2.Evaluation Aids
Section II: Achieving Comfort
1.Ten Reasons to Overcome Social Anxiety
2.Seven Habits of Highly Successful Communicators 
3.Communication ABCs
4.Organizing Your Communication
5.Six Simple Steps to Conversational Self-Confidence 
6.Preparing to be a Great Conversationalist
7.How to Start a Conversation
Section III: Achieving Mastery
1.Understanding Communication Personalities
2.Learning from Six Bad Conversationalists
3.Creative Ways to Practice
4.Act "As If" and the Feeling Will Follow

5.Meet N Greet

6.Building Rapport
Section IV: Achieving Excellence
1.Ten Quick Rules for Disagreeing in Grace
2.Dealing with Negative Nellies
3.Dealing with Aggressive People
4.Dealing with Rude People
5.Dealing with People Who Dislike You
6.What to Do for Your Shy Child
Section V: For Further Study
1.Assess How Far You've Come
2.Resources for You
3.Resources for Your Children
4.General Resources
This is from a webinar JoJo did a few years ago, but it depicts what shyness can do to a child.  this may be what your teen felt like growing up. Unfortunately, unless addressed, it doesn't usually get easier with age.  
Don't let social anxiety control your life any longer. 
Order Say What You Mean: Overcoming Social Anxiety TODAY!
---