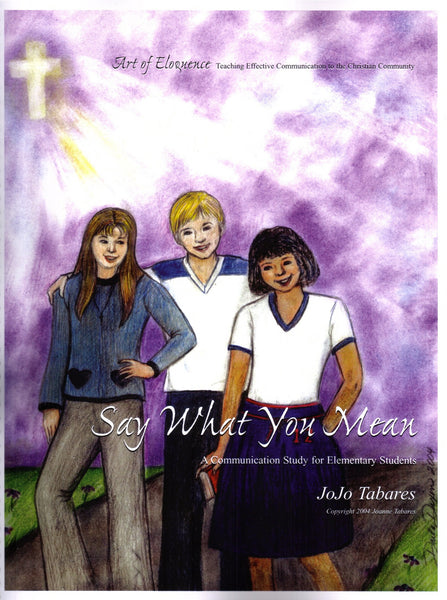 Say What You Mean For Kids
"Your courses have blessed many students here in Virginia and I can't wait to get started on Debate!!" -Karen D.
Say What You Mean for Kids has been rewritten as an ebook and now includes communication articles, resources, embedded links, and so much more!
This Christian-based, 18 week (one semester) course geared for grades 2-6 covers general communication skills as well as beginning speech. The hands-on activities and funny stories help young children more effectively remember the skills and lessons taught. The speech is handled in increments after week 8 to make it more comfortable for shy children or first time speakers.
Each lesson begins with a Bible quote to set the stage for the lesson
User friendly, just pick it up and teach, no teacher prep time required
Engaging activities include: games, word search, crossword, funny stories
Use as homeschool curricula or as a supplement for kids in traditional school
Great as a co op class or other classroom course
Great for shy, gifted or ADD children
Adorable graphics that help illustrate for elementary level
Room for student notes
Includes Certificate of Achievement
Just 1-2 hours a week can make all the difference!
Now with embedded links to new articles, tips and more!
" My daughter Tabetha has been using "Say What You Mean". She loves it. I will even hear her laughing at some of the examples JoJo gives for different things. This has been a very positive study for her. I have noticed how much it has helped improve her communication skills. Even in simple things such as having conversations with different people. It's not about just giving speeches but about everyday type of communication, from thank you notes to e-mails, to learning how to change how you explain something depending on who you are speaking to. I enjoy the fact that she can follow along herself and the homework is given at the end of each weeks study. They are creative assignments that she actually enjoys doing and yet is still challenged. So go check out JoJo's site!" Lorissa
*NOTE*: You will be prompted at checkout to click through in order to download the eBook.
---