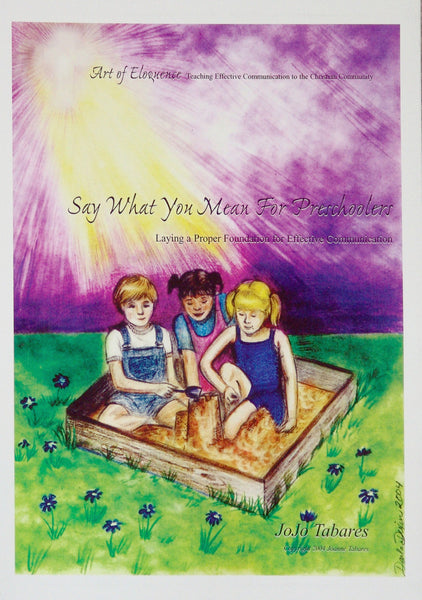 Say What You Mean For Preschoolers
Say What You Mean for Preschoolers downloadable workbook!
Engaging two to three year Christian-based program that grows with your 2-5 year-old child. This study is also perfect for children who are not yet ready for our elementary study. The various activities appeal to different learning styles and levels. Preschool is the best time to begin teaching communication skills-before the fears set in. Use as a homeschool study or as a supplement. Preschool study includes:
A Bible quote to set the tone for each chapter
" Mom Notes" to help mom with the lessons inside
Place for mom to make notes on each chapter to record development
User friendly - just pick it up and teach - no teacher prep time required
Fun and engaging activities for young kids
Just a few minutes per lesson - perfect for little attention spans
A Success Chart, Certificate of Achievement and Evaluation Notes
Adorable graphics and coloring pages
Each activity is labled: Visual, Auditory and Kinesthetic learning styles for easy use
Adorable coloring pages that illustrate basic communication skills to introduce to your preschooler.
Perfect also for boys in early elementary!
All NEW graphics!
Embedded links to new resources!
Download a sample here!
" The Say What You Mean For Preschoolers is excellent! My son (although at first grade is past preschool material) has enjoyed learning the different ways he can be polite. It was a real blessing to me as his mom/teacher to see him put into use the practical applications of shaking hands and introducing himself to a grownup he didn't know. I was very proud of him, not only did he remember which hand to shake with, but he also remembered to address this person as Mr. ... and speak clearly and loudly enough for this person to hear and understand him.  JoJo has done a wonderful job with the study, making it fun for my son and also easy to remember the specific lessons. We are now enjoying the tongue twisters!" Jill Lee
---