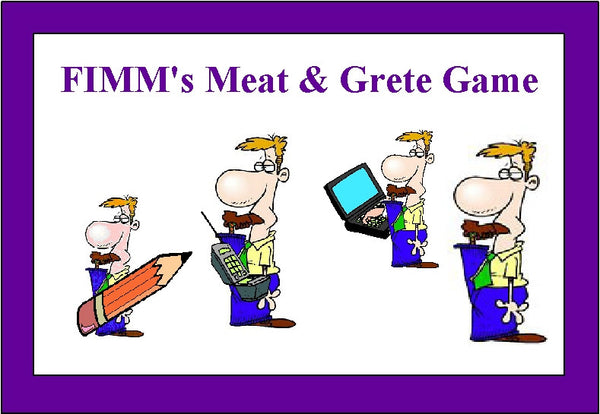 FIMM's "Meat and Grete" Game
It's a craft, it's a game and it teaches your young children how to meet and greet, introduce themselves and it even throws in a little spelling for good measure!
Developed with shy children in mind, this printable game comes with game board, game pieces, game cards and instructions that help your elementary children learn to "meat and grete," make friends and be social. Based on FIMM: Foot in Mouth Man from our popular Misadventures of Foot in Mouth Man we had running weekly episodes here on Art of Eloquence.  
For two to four players.  Roll the die, and move the pieces ahead on the board. The first one who gets to the winner square is the winner, but EVERYONE wins because everyone learns how to introduce themselves at social events!  As they come to places where they need to introduce themselves, they will learn the skills necessary to do so in real life.  A perfect way to help children, especially shy children, practice these skills! 
It's a craft: print out the colorful board, cut out the FIMM (Foot in Mouth Man) player pieces and assemble the Game Cards and Friend Cards.
It's a game: play the game and have fun for two to four players!
It's a communication skills exercise:  the more your children play, the more they master the art of conversation, making friends and introductions.  FIMM (Foot in Mouth Man) doesn't spell very well so you can even challenge your children to find the misspelled words on the game. 
---