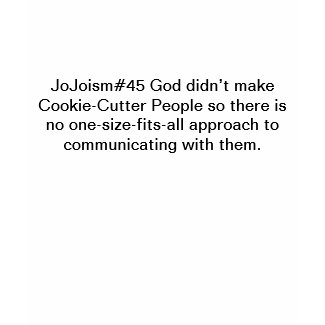 We interrupt this Friday to bring you a new kind of Friday Funny! Extra, Extra!  Read all about it!  You asked for it; you got it!  No not Toyota, but JoJoism T-Shirts! Last week, I posted one of my JoJoisms on the
Art of Eloquence Facebook fan page
and got this response, "
I'd love to have that on a t-shirt!
"  Several said they' d like to see it too so...here they are! As far as I can tell, you have the option to order these in any size, color and style of t-shirt you like!  So, just because you don't see your favorite JoJoism in a color or style you like, doesn't mean you can't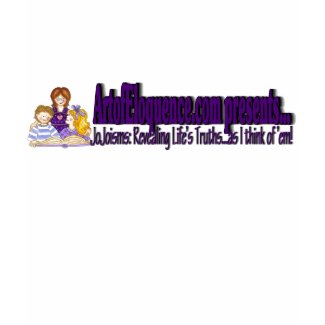 get it that way!             I only had time to add just a few of my JoJoisms, but I'd like to ask you which ones YOU'D like to see on a t-shirt.  The ones most requested, are the ones I'll add next.  I have written almost 200 JoJoisms and when I get to 200, I might just have a party!  Here is the back of the shirt:
NOTE
: They say sizes run extremely small so they ask that you order them one to two sizes larger.  They do have a body size chart listed to help you with that. We don't make much on these t-shirts, we just found that Zazzle would help us provide our customers with a product they had asked us for.  Go check them out and please let us know which JoJoisms you'd like to see on a t-shirt by leaving us a comment on the blog. We now return you to your regularly scheduled internet reading.  If this had been a real Communication FUNdamentals emergency, you would have been instructed where to turn to find further
JoJoism t-shirts
that reveal life's truths...as I think of 'em!